Unsung Heroes: The Story of America's Female Patriots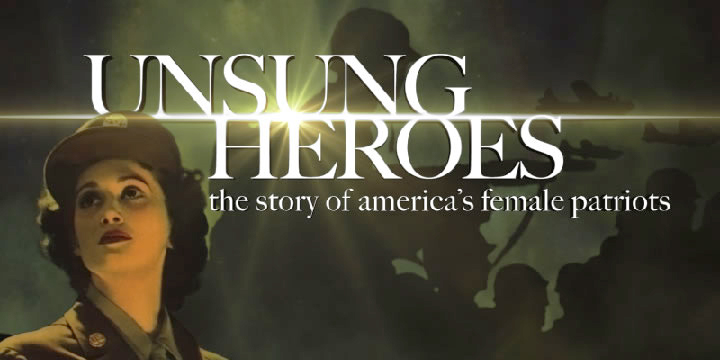 It's clear to all of us that women are contributing in unprecedented ways to the military's mission of defending the nation. Everyone is committed to doing the job, men and women alike. They're fighting and they're dying together.  And the time has come for our policies to recognize that reality.
Secretary of Defense, Leon Panetta
January 24, 2013
Every woman that has ever served in the American military has volunteered to do so. 
Today more women serve in the armed forces of the United States than at any other time in our nations history, in ways never before possible. 
This courageous heritage can be traced back to the Revolution where women donned men's clothes and took up arms against the British. And though none had the right to vote, hundreds of women participated in the Civil War as nurses, spies and soldiers. Of the 33,000 women who served their country during the Great War, some 300 lost their lives. More than 700,000 women defended America in WW II, Korea and Vietnam.  As of 2014, over 150 female patriots have been killed in Iraq and Afghanistan.
The service of these women has been heroic, their sacrifices profound and their enormous accomplishments largely ignored.   
Unsung Heroes: The Story of America's Female Patriots finally, and for the first time, sets the record straight. 
This 2 hour, 2-part documentary is executive produced by Academy Award winning filmmaker Ron Howard and written and directed by Sundance, Emmy and Image Award winning filmmaker Frank Martin, creator of the acclaimed public television special For Love of Liberty: The Story of America's Black Patriots. 
At the heart of Unsung Heroes are the powerful first-hand accounts of women who have lived the story. They include Admiral Michelle Howard and General Ann Dunwoody, the two highest ranking women in the history of the American military, Sgt. Leigh Ann Hester who is the first woman to earn the Silver Star for heroism in combat, Mildred Manning who is the last surviving female POW from WWII, the first female Thunderbird pilot, Lt. Col. Nicole Malachowski, Captain Beverly Kelly who is the first woman to command an American warship, Deanie Parish who is one of the last surviving WWII era WASP pilots, and Wounded Warrior and recently elected member of Congress, Lt. Col. Tammy Duckworth. Others in the film include Steve Ellis whose daughter was killed in Afghanistan, Sgt. Latianna Wilson who was a victim of sexual assault and suicide survivor, and Vietnam era nurse, 1st Lt. Marsha Four who still suffers the effects of PTSD. 
These are stories of perseverance and triumph that reveal the unheralded achievements of this valiant legion of female patriots. The special also calls attention to the unique challenges faced by today's women veterans, such as sexual assault, homelessness and the loss of children. 
Rare photographs, archival materials and personal memorabilia illustrate this eclectic mix of on-camera interviews. The program is formatted thematically and the segments include Heroes, Called to Duty, Healers, In The Line of Fire, Freedom Is Not Free, Flyers, Leadership, POW's, Killed in Action and Against all Odds. 
Unsung Heroes: The Story of America's Female Patriots is an inspirational saga of unrecognized courage and sacrifice that touches every community in the nation. These are women, who despite the hardships of military service are proud of their long-standing commitment to the patriot ideals of the United States. It is a story of all guts and no glory and its theme, the price of liberty, is relevant to all Americans.
Download Videos and Images
To download materials: Right click the links and select "Save Target As" for Internet Explorer or "Save Link As" for Firefox.
UNSUNG HEROES PROMO 15 sec.mov
UNSUNG HEROES PROMO 20 sec.mov
Click the thumbnail to view a larger image.  If you require a larger or higher resolution image, contact Lauren Whittington at lwhittington@mpt.org.

 
 
 

Air Crew (.jpg)

 

Air Force MP (.jpg)

Army Nurse Corp (.jpg)

 
 
 

Army Nurse Corp Anzio Italy (.jpg)

 Charity Adams inspecting 6888th England (.jpg)

 Civil War Clara Barton (.jpg)

 
 

 Clayton Francis Civil War (.jpg)

 

Dr. Mary Walker Wearing Medal of Honor (.jpg)

 

F Robinson Mitchell USMC (.jpg)

 
 
 

Female Calvery (.jpg)

 

Female Engagement Team (.jpg)

Forward Deployed Air Force (.jpg)

 
 
 

General Ann Dunwoody (.jpg)

Korean Era Intergrated Wac's marching (.jpg)

Lioness With Kids (.jpg)

 
 

 Molly Pitcher (.jpg)

Navy Battle Buddies (.jpg)

 Navy Chopper Pilot (.jpg)

 
 

 On board USS THEODORE ROOSEVELT (.jpg)

SPAR Recruting (.jpg)

USMC (.jpg)

 
 
 

Vietnam Bronze Star Awarded (.jpg)

WASP B17 Crew (.jpg) 

Wave Boot Camp (.jpg) 

 
 
 

WWI Nurse Eleanor Lyons (.jpg) 

WWI Nurse Marion Stills Rice (.jpg) 

WWI Red Cross Poster (.jpg) 

 

 

 

WWI Yeomanette Viola Bousquet McCabe (.jpg) 

WWII COL Hobby (.jpg)

 
Unsung Heroes Title Card (.jpg)