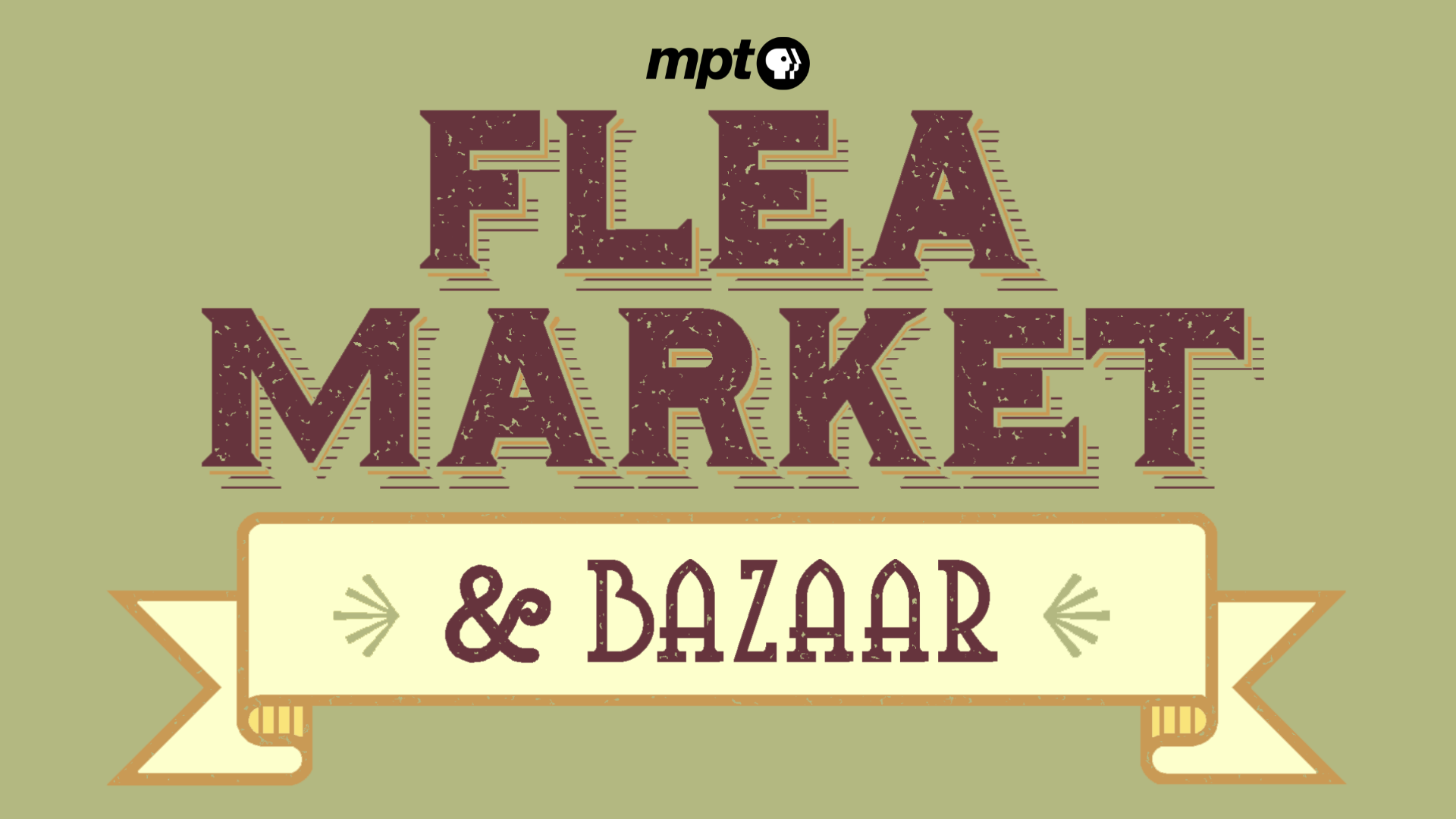 A free event - part flea market, part craft bazaar, and all fun!
SATURDAY, NOVEMBER 19, 2022
8am to 2pm at MPT
Maryland Public Television | 11767 Owings Mills Boulevard | Owings Mills, Maryland 21117
It has been three long years since our last Flea Market & Bazaar and we are so excited to be back! This event, located on the MPT campus, brings together more than 1,000 community members and dozens of vendors and crafters to sell, mix, mingle, and shop. New this year - the MPT Flea Market & Bazaar will have a holiday theme. What's more, we are proud to showcase our newly renovated studio to our vendors and attendees.
This is not your normal shopping bazaar! Support MPT by purchasing novelties at rock bottom prices, including books, DVDs, and CDs. Also shop unique & handcrafted items from dozens of designers, makers, doers, and dreamers. From repurposed antiques to handmade clothing, beauty products to flea market finds, home goods to fine jewelry, original art to artisan foods, the MPT Flea Market & Bazaar truly has something for everyone!
All 2022 vendor spaces are now filled. If you would like to be added to the waitlist, click here.
Check out our amazing 2022 vendors!
Adiante Franszoon Wood Designs
Handmade wooden décor and jewelry
Baltimore Jewels
Vintage jewels and collectibles
Beady Holly
Handmade beaded jewelry and handmade cards
Bob Buczek
Antique bronze sculptures, glassware, china
Born Again Jewelry
Jewelry made by combining recycled jewelry with new elements
Bullhead Pit Beef
Howard County's Best Pit Beef & Barbecue
Butler Corner Clothing
Selection of clothing from Butler Corner Boutique
CandysApples&Treats
Caramel and candy apples, cupcakes, cake slices, and pretzel sticks
Christine Goglia
Games, toys, household items
Corned Beef King
All American deli serving corned beef, pastrami, and brisket
Cosmic Esentuals
Natural skincare products, handmade oils, soaps, body butters, and scrubs
Curious Cat Studio
Book-themed gifts such as postcards, bookmarks, and gift boxes
Cynthia's Treasures
Household items - china, glassware, knickknacks, & décor
Da Kollective Group Custom Design
Afrocentric glass & mugs, quartz bracelets
Dianne Ross
Gently-used clothing, winter coats, wide assortment of household items
Divine Sense Wellness
Spiritual & mindfulness gift baskets, natural cosmetics and gifts
E. Siegmund
Crafting materials such as paper products, die-cutting machine, embossing tools
Echo Valley Farm
Hand-painted Christmas décor, wooden ornaments, wreaths, dried flowers
Eye of the Rogue
LED flashlight wands, UV blacklight wands
Franchesca's Empanadas
Empanadas made in Baltimore with the finest ingredients
Glam House Of Decor
Christmas wreaths, scented candles, notecards
Greendwana Designs
Hand-rendered, one-of-a-kind hope chests, metal tins, and wall art
GroGive
Garden accessories such as plant hangers, and sales benefit area food deserts
Hot Glass Burns
Kiln-formed glass jewelry and art glass
Hurlaine & Jam Gift Collectibles
Custom-made thank-you gifts for Veterans, nurses, and first responders
JewelBdrawing
Custom art prints by local artist Jewel Benford
K&C Jewelry
Handmade jewelry in pewter, crystal, stones, and beads
Katina Smith
Homemade desserts and fruit preserves
Kimbahu Designs
Handmade pottery, mugs, plates, and tea sets
Laura DeNardo Photography
Local photographer selling photographs and prints
Laverne Stuckey
High-quality accessories for the whole family, home décor
Leland Manufactory
Vintage letterpress prints, woodcuts, calendars, books
Lo-Fi Treats LLC
Premium, all-natural loose-leaf tea blends
Mary Magenta
Handmade items such as calendars, note cards, fine tea towels, pillows
Max's Degrees
Fine herb and salt blends made with local ingredients
MFG Toffee & Bark
Gourmet, small batch English walnut toffee & bark
MGem Designs
Semi-precious stones wrapped in sterling silver, assorted handmade jewelry
Midnight Pours Art
Holiday ornaments, jewelry sets, vinyl and canvas art
Moenik Blue
Gently used designer clothing, shoes, and accessories
Momma Love Jams & Jellies
Homemade jams and jellies
Nicolle's Kids Corner
New and gently-used children's clothing and accessories
Regal Clothes
Unisex tribal print kimonos, complimentary accessories made with excess fabric
Renewit Services
Decorative porcelain display items, lamps, art, wooden crafts
Reyshi Designs
Fiber art and décor including macramé, rope baskets, and more
Robert Edwarda
Glass, pottery, baseball cards, coins, and other collectibles
Rozzie Jewelry
One-of-a-kind handcrafted jewelry for men, women, and children
Safe Haven Equine Warriors
New-in-box Longaberger baskets and pottery, Vintage and new Christmas gifts
Sharan's Famous Mandel Bread
Sharan's recipe for the best Mandel bread around!
Shirlene Garyu
Fabric Christmas stars and dolls, homemade hats and scarves
Strawberries Cr8tions
Handmade tumblers, coasters, keychains, mugs
Taggart's Treasures
New-in-box clothing, shoes (large sizes!), and electronics
The Baltimore Crab Co & Catering
Gourmet seafood. chicken tenders, Chesapeake wings
Thoughtfully Woven
Handmade macramé and fiber art
Thredzbysewsista51
Christmas mugs, candles, aprons, t-shirts
Tom Glenn, Author
Full-time author Tom Glenn displays his works
Terry's Toy Trains
Thomas the Tank Engine trains and products, Brio trains and products
Tumutu Productions
African art pieces such as masks, statues, paintings