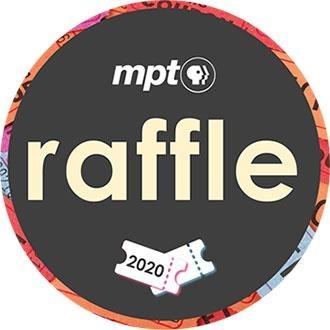 2020 MPT Raffle
March 2 to April 15, 2020
The 2020 MPT Raffle is now over. Congrats to the winners and thank you to everyone who participated!
Grand Prize Winner
MPTRAF201179 – Robert N. from Baltimore, MD
2nd Place Winners
MPTRAF200612 – Mary H. from Cockeysville, MD
MPTRAF200077 – Helen N. from Annapolis, MD
MPTRAF200048 – John V. from Chevy Chase, MD
MPTRAF200608 – Judith E. from Springfield, VA
3rd Place Winners
MPTRAF201630 – Kathy S. from Fairfax, VA
MPTRAF200958 – Stephanie J. from Washington, DC
MPTRAF202024 – Mabel C. from Davidsonville, MD
MPTRAF200197 – Louis G. from Parkville, MD
MPTRAF201634 – Lynn F. from Selbyville, DE
MPTRAF200363 – Ronald K. from Ocean City, MD
MPTRAF200355 – Karen M. from Baltimore, MD
MPTRAF201017 – Rafael C. from Palm Bay, FL
MPTRAF201456 – Patricia K. from Worton, MD
MPTRAF200838 – Martha H. from Germantown, MD
ABOUT THE RAFFLE
The MPT Foundation invites you to enter drawings to win multiple prizes, including a $10,000 grand prize. This year's raffle features a total of 55 prizes, some drawn as early bird prizes. Raffle tickets are $30 each and limited to only 2,750 tickets sold. In addition to the great prizes and odds of winning, those who purchase two or more tickets receive a one-year MPT membership, including access to MPT Passport, an on-demand library of quality public TV programming.
QUESTIONS?
Contact Stephanie at 410-581-4137 or sryan@mpt.org
CONGRATS TO THE EARLY BIRD WINNERS
MARCH 18, 2020
MPTRAF200465 – Heidi V. from Baltimore, MD
MPTRAF200316 – Pat H. from Venice, FL
MPTRAF200437 – Marjorie E. from Silver Spring, MD
MPTRAF200343 – Victor M. from Silver Spring, MD
MPTRAF200115 – David G. from Greenbelt, MD
MPTRAF200198 – Susan H. from Vienna, VA
MPTRAF200327 – Ellin D. from Reisterstown, MD
MPTRAF200095 – David G. from Greenbelt, MD
MPTRAF200318 – Geraldine S. from Reisterstown, MD
MPTRAF200077 – Helen N. from Annapolis, MD
MARCH 25, 2020
MPTRAF200286 – William L. from Hagerstown, MD
MPTRAF200268 – Mary C. from Fairfax, VA
MPTRAF200562 – Philip D. from Church Hill, MD
MPTRAF200315 – Barbara W. from Indian Head, MD
MPTRAF200265 – Elizabeth W. from Bowie, MD
MPTRAF200331 – Norma D. from Ijamsville, MD
MPTRAF200716 – Rosalinda N. from Falling Waters, WV
MPTRAF200561 – Joan F. from Baltimore, MD
MPTRAF200396 – Judith L. from Pocomoke, MD
MPTRAF200446 – Cynthia M. from Fairfax, VA
APRIL 1, 2020
MPTRAF200736 – Jane K. from Annapolis, MD
MPTRAF200216 – Sarah R. from Timonium, MD
MPTRAF200831 – Katherine G. from Elkton, MD
MPTRAF200645 – Joseph O. from Frederick, MD
MPTRAF200808 – Robert M. from Easton, MD
MPTRAF200975 – Donna F. from Annapolis, MD
MPTRAF200355 – Karen M. from Baltimore, MD
MPTRAF200007 – Caryn G. from Laurel, MD
MPTRAF200949 – Daniel P. from St. Mary's, MD
MPTRAF200491 – Frederick P. from Slanesville, WV
APRIL 8, 2020
MPTRAF200626 – Martha B. from Silver Spring, MD
MPTRAF200027 – Robert K. from Mechanicsville, MD
MPTRAF201271 – Paul Y. from Mitchellville, MD
MPTRAF200505 – Mary T. from Baltimore, MD
MPTRAF200036 – Ann F. from Sykesville, MD
MPTRAF200666 – Mary Claire S. from Finksburg, MD
MPTRAF200028 – Robert K. from Mechanicsville, MD
MPTRAF200832 – Claudette P. from Dillsburg, PA
MPTRAF200828 – Anthony F. from Harbeson, DE
MPTRAF200130 – Richard R. from Washington, DC