Maryland Public Television is thrilled to announce the return of our Station Tour Program at our campus located in Owings Mills. Would you like to bring in a group of students, your community's club, senior adult organization, or academic association? Request a tour today! Visitors will learn all about MPT's history and view displays of our achievements as Maryland's only statewide broadcaster. You will get an inside look at current TV technology and visit all three of our studios, including The Irene and Edward H. Kaplan Studio. The Kaplan Studio now boasts almost 8500 square feet of premium production and event space. You can also view our more intimate studios that you may recognize from live pledge events and programming such as State Circle. It has been awfully quiet around here, and we're looking forward to hosting you again!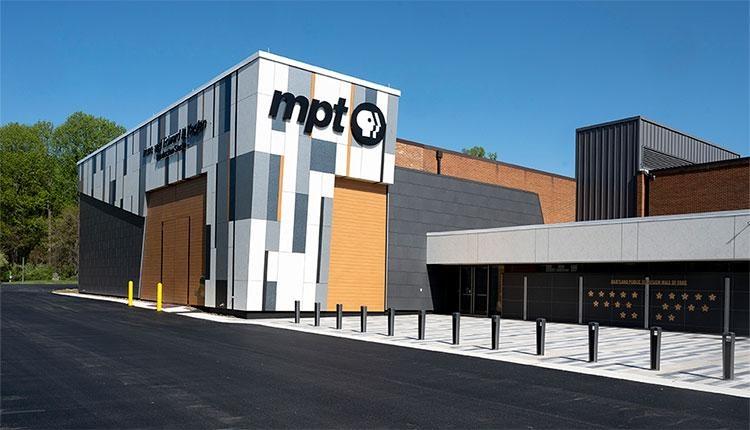 Important Information:
Tour requests must be received at least two weeks in advance.
Visitors may tour MPT Tuesday-Thursday between 10am and 4pm.
A station tour can last anywhere from 45 minutes to 1.5 hours.
Ample parking is available in the main lot in front of the building. We have handicapped and large vehicle parking onsite.

Please use the registration form to inform us of any accommodations required for your group, such as wheelchair access, auxiliary aids/services, bus parking, etc.
If you are ready to schedule a visit, please visit our Station Tour Registration Page. If you have any questions before you book, please email outreach@mpt.org or call 410-581-4137.
*Please note: Completion of the registration form does not guarantee your tour is booked. You will be asked to select three date/time options for your tour and we will do our best to accommodate one of those choices.
Looking to enhance your tour experience?

Visitors can learn so much about MPT in an hour or less! You can also tailor your tour to your group's interest and get a more in-depth look at some of the behind-the-scenes action in the studios*.
For young people interested in careers in TV and/or film production, lighting, sound, editing, and more - request a longer tour of the Kaplan Studio, one of the largest studios/soundstages in the PBS system.

Spend a little extra time admiring our halls! Our walls are adorned with tv, film, and event posters, awards and accolades received over the years, and photos of some of your favorite public television personalities. You can let your tour guide know if we should allow you more time to explore.

If you are looking for a more interactive experience for the kids, we have games, activities, and a space for lunch. Plan your field trip with us!

We can accommodate groups of any size, including groups that require buses/oversize vehicles. There is ample parking available in front of the MPT main entrance.
*Please note: Some requested tour enhancements will require additional planning and lead time.
Although there is never a charge for a tour of the station, donations are always accepted and greatly appreciated! Click HERE to support the station tour program and MPT events!
REGARDING COVID-19: Based on CDC recommendations, proof of Covid-19 vaccination will not be required to visit MPT. It is recommended that unvaccinated persons wear a mask indoors if they cannot safely distance themselves from others. Please use your best judgment and stay home if you are experiencing symptoms.