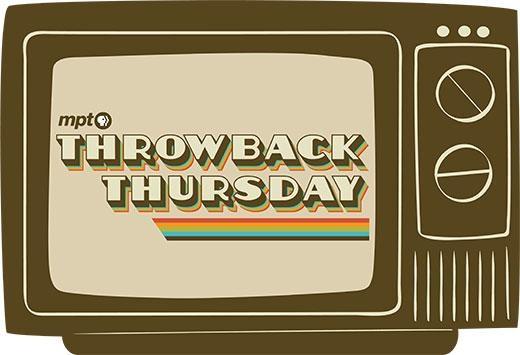 Join us on the first Thursday of the month for a free OVEE screening that features a favorite throwback MPT production. Bring your lunch and enjoy a break with us.
Thursday, September 3 at noon
Primal Grill with Steven Raichlen
Primal Grill with Steven Raichlen is designed to help you take your grilling to the next level! Raichlen's signature easy-to-follow teaching style both entertains and educates viewers. From basic charcoal grills to today's extravagant outdoor kitchens, plus all the sauces, rubs, and accessories you can imagine, Raichlen covers all the bases necessary to build viewer loyalty, confidence, and talent at the grill. Original air date 2010.
RSVP HERE - https://ovee.itvs.org/screenings/k67ze
Thursday, August 6 at noon
Our Street
Our Street, tells the fictional story of the Robinsons, a Black family from East Baltimore. Syndicated to 20 stations around the country, Our Street introduced Baltimore to communities beyond Maryland, examining challenging themes within the framework of domestic drama. Viewers will be charmed by the distinct 1970s style and somewhat avant-garde opening sequence, but will also recognize ongoing themes about issues of race and representation in America. Original air date October 1972.
RSVP HERE - https://ovee.itvs.org/screenings/e9kgl
Thursday, August 13 at noon
Buddy Deane Scrapbook: Shake, Rattle & Roll
This program is a tribute to long-time Maryland radio announcer Buddy Deane. It was the era of rock n' roll ducktail, pegged pants, and beehive haridos. And they all came together on the Buddy Deane Show, Baltimore's legendary teen dance show. This MPT special presentation takes a nostalgic look at a time when dancing on the show became the ultimate goal for many regional teens. With rare archival footage from those early years of 1957-64, the special looks at the stars who made appearances from Frankie Avalon to Chubby Checker. Original air date 2003.
RSVP HERE - https://ovee.itvs.org/screenings/ftrty
Thursday, August 20 at noon
Eatin' Crabcakes: The Best I Ever Had
From goliath-sized crab cakes to time tried-and-true recipes that have survived kitchen-based tests and trials of the ages, Eatin' Crabcakes: The Best I Ever Had is the ultimate crab cake treasure hunt across the Chesapeake region. This fun-loving, kitchen-hopping adventure traverses the state in search of Crab Cake Heaven. Original air date July 2009.
RSVP HERE - https://ovee.itvs.org/screenings/7vsu8
Thursday, August 27 at noon
Chesapeake Bay By Air
It's the soaring glory of Chesapeake Bay as never seen by Captain John Smith and his traveling companions of 1608. Chesapeake Bay by Air is MPT's program that forever captures the unparalleled wild beauty, history and natural serenity of the bay, all from above.
RSVP HERE - https://ovee.itvs.org/screenings/fcx1i
Thursday, July 2 at noon
Downee Ocean, Hon!
Ask a Marylander where they're headed this summer and chances are you're bound to hear "downee ocean" which can only mean one place: Ocean City! From the beach to the boardwalk, the Ferris wheel to fishing, ocean sunrise to bay nightlife, Downee Ocean, Hon! captures the OC experience – the rich history, family traditions, & small-town charm that's kept it one of the East Coast's top vacation spots. Original air date April 20, 2014.
Thursday, July 9 at noon
Gone But Not Forgotten Part 2
Gone But Not Forgotten Part 2, narrated by Dan Rodricks celebrates Maryland's rich sporting tradition (1930-60) by revisiting teams, tracks and venues. Johnny Unitas, Baltimore Colts, Elite Giants, boxing at the Coliseum, Cumberland Sports Car Races, Cambridge Dodgers, Bel Air Racetrack, and Jimmy Foxx.
Thursday, July 16 at noon
The Freedom Station
A poignant, original drama of a runaway slave's pursuit of freedom via the underground railroad and her encounter with an abolitionist's daughter (Christine Cunningham). Addy (Jada Pinkett) hopes to find "Moses," Harriet Tubman's secret identity and escape to Canada. But her presence in the cellar puts the family at risk and sparks a dialogue on human rights and the responsibilities of freedom. Original air date February 1, 1988.
Thursday, July 23 at noon
Secrets of the Chesapeake
Take a trip along the bay, uncovering the most unusual places to explore and things to do for the weekender. These aren't ordinary tourist destinations, they're spots that only a native would point to: from a hidden cove of shipwrecks to an island seafood-shack... quiet crossroads where local history comes alive! Original air date April 23, 2014.
Thursday, July 30 at noon
Civil War: A Region Divided
Civil War: A Region Divided is narrated by Lary Lewman and features a variety of battle and camp site re-enactments. MPT created the series as a locally focused companion program to Ken Burns' The Civil War series on PBS. Learn about some of Maryland's most historic battles, the roles of historic figures, and much more. Original air date 1990.
Thursday, June 4 at noon
The Chesapeake Bay Bridge: Spanning the Bay
In 1952 the Chesapeake Bay Bridge changed everything for Maryland, with far-reaching effects on everything from commerce to commuting. It fueled the growing tourism industry, transforming tiny beachside resorts like Ocean City into bustling summertime destinations. Discover the vision, struggles, and engineering genius that led to the creation of this state treasure! Original air date: April 19, 2014.
Thursday, June 11 at noon
Eatin' Crabs Chesapeake Style
A rollicking foray into the world of the blue crab from dockside to table. From Baltimore's busiest harborside districts and most famed crab shacks to beloved and isolated locales from Ocean City to Oakland, Eatin' Crabs Chesapeake Style captures the world of crab-loving, a uniquely Maryland slice of life, and cracks it open for all to see. Original air date: July, 13, 2009.
Thursday, June 18 at noon
Distinctive Homes of the Chesapeake
Distinctive Homes of the Chesapeake opens the front door to Maryland's unique, historic, and magnificent homes surrounding the Chesapeake Bay for intimate tours. Explore a colonial-era manor hand-crafted in the 1700s, an unusual houseboat with different waterfront views each day, and modern architectural marvels that blend the best of Bay living with gorgeous settings rarely seen. Original air date: April 21, 2013.
Thursday, June 25 at noon
Chesapeake Bay Cooking with John Shields
For generations the Chesapeake and its inhabitants kept a relatively low profile on the food scene, with many classic recipes and cooking preparations tucked away in family recipe boxes and handed down orally from one generation to the next. Chesapeake Bay Cooking with John Shields introduces this glorious region and its outstanding cuisine to folks who've never lingered on its shores and beaches or spent time in its tiny towns, or explored the riches of the city of Baltimore. Original air date: June 1998.
Thursday, May 7 at noon
Baseball, The Birds on 33rd
A love song to the Baltimore Orioles and Memorial Stadium, this documentary highlights the Birds' 1954 return to the major leagues and the 1958 All-Star Game. Produced and written by Mike Gesker. Original air date January 1, 1991.
Thursday, May 14 at noon
Citizen Schaefer
He's been called the greatest Maryland politician of the last 100 years. Four times Mayor of Baltimore, twice as Maryland Governor and state Comptroller, William Donald Schaefer lived for Maryland politics. MPT looks at Schaefer's unparalleled life in politics and explores his 51 years in public office. Original air date July 1, 2009.
Thursday, May 21 at noon
Crabs
A local, live comedy program in the vein of Saturday Night Live, featuring Baltimore and Maryland talent and gently skewering local culture and personalities. Original air date January 1, 1985.
Thursday, May 28 at noon
Gone But Not Forgotten, Part One
A nostalgic look back at places in Maryland where people gathered, played, and lived. Today they exist only in fond memories, spots such as Baltimore's 1914 Hippodrome with its vaudeville shows; Carr's Beach in the D.C. area; White Tower restaurants; Baltimore streetcars; Gwynn Oak Park; and more. Narrated by Dan Rodricks. Original air date: 1994.