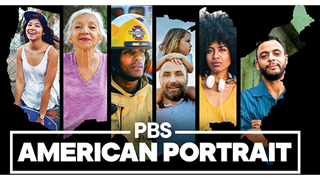 PBS American Portrait - Share Your Story
Everyone has a story. Tell yours.
PBS American Portrait is asking you, and people all over the country, to submit your individual stories by responding to one of a number of thought provoking prompts.
It's a chance for you to give us a glimpse into your life, and a chance for you to Be Heard. A chance for us all to see what it really means to be American today.
American Portrait Tech Giveaway
Here are a few portraits from our own region—let us now hear your voice.
Watch now on demand
American Portrait Learning Session
Learn how to participate in American Portrait, the national storytelling initiative created by PBS. Plus get 5 technical tips for creating a fantastic video.
PBS American Portrait
Extended Preview | PBS American Portrait
What does it really mean to be an American today? Be heard and share your story.