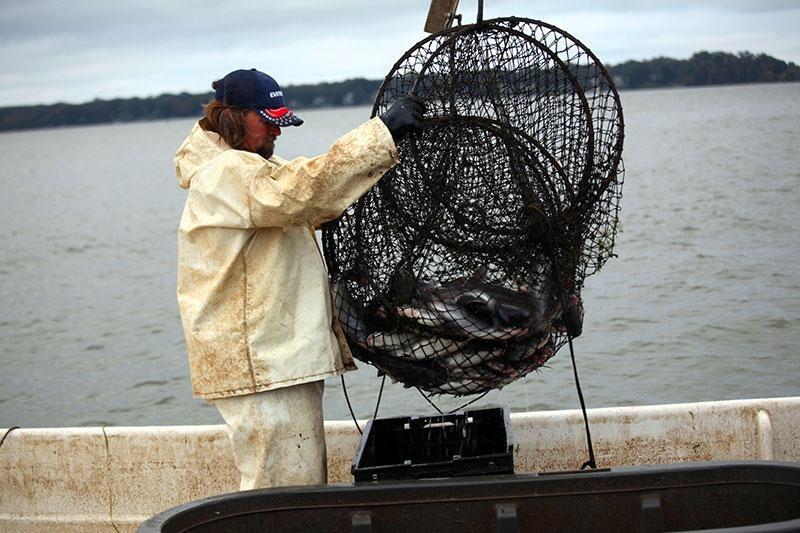 There's a new item hitting restaurant menus, grocery stores, and dinner plates. First found in a Chesapeake Bay tributary in the 1970s, the "blue cat" is a ravenous fish with no natural predators. The population of this invasive species has mushroomed, threatening to upset the biological balance of the Bay.
Now, a coalition of wildlife managers, seafood marketers, commercial watermen, and recreational fishers have come together to tackle the problem. Meet cooks, consumers, biologists, and businesses as they appeal to our appetites in an effort to find solutions to problems presented by this Chesapeake bully.
Come along as Bay anglers target the plentiful and easy-to -find fish, whose weight can exceed 100 pounds. With no limits on the catch, recreational bowfishing groups venture out at night, hunting the fish with a mix of new and old technologies. Learn how commercial watermen are shifting their businesses, processing and selling nearly seven million pounds of wild caught blue cat a year across the region. Also find how a local food bank is distributing blue catfish to recovery shelters to address food insecurity– a clear win for those concerned about the environment, sustainable business, and feeding the hungry.
Finally, the heat is on! Visit the kitchens of local chefs as they get creative, testing delicious ways to prepare and serve this savory predator in preparation for a seafood cooking competition. Get your forks and appetites ready as we see which chef has what it takes to get the judges excited about Eatin' Blue Catfish, Chesapeake Style!