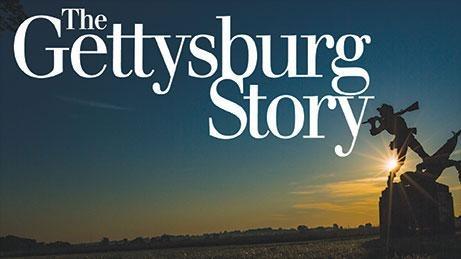 The Gettysburg Story - Program Clip
The Gettysburg Story begins on June 1863 with the start of the Gettysburg campaign in Virginia and follows the route of the Confederate and Union armies as they move north along the Blue Ridge mountains and across the Mason-Dixon line to meet on the rolling ground surrounding the small Pennsylvania town. The program is narrated by acclaimed actor Stephen Lang (Avatar, Tombstone, Gettysburg) and was produced with the cooperation of the 6,000 acre Gettysburg National Military Park. Dynamic, evocative, breathtaking aerial and time lapse imagery highlight legendary places of the battlefield - Little Round Top, Devils Den, The Railroad Cut, Cemetery Ridge, the fields of Pickett's Charge - and visually tell the epic Gettysburg Story like no other film before. View a program clip here:
Civil War era music reinterpreted with 21st century technology along with a dramatic and evocative sound mix makes the vicious battle come to life. GPS linked digital animations dynamically and efficiently explain troop movements and military strategies employed in the battle. The history and the land literally come alive in this unique visual and aural interpretation.
Experience The Gettysburg Story as you have never seen it before! This groundbreaking documentary tells the history of the greatest battle fought on American soil primarily using stunning time lapse cinematography and high definition views of the actual battlefield as recorded by radio controlled helicopter cameras. View a behind-the-scenes clip here:
Download Videos and Images
To download materials: Right click the links and select "Save Target As" for Internet Explorer or "Save Link As" for Firefox.
Promo video (.mov), 20 seconds, HD

Promo video (.mov), 20 seconds, SD

Promo video (.mov), 30 seconds, HD

Promo video (.mov), 30 seconds, SD

The Gettysburg Story - Featurette (.mp4)

The Gettysburg Story - Little Round Top scene (.mp4)
Click on the thumbnails to view larger images.
MPT National
The Gettysburg Story - Behind the Scenes Featurette