My Greek Table with Diane Kochilas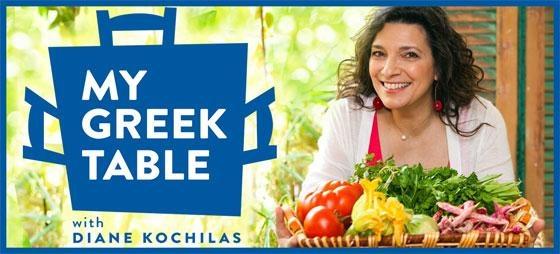 MPT National
My Greek Table with Diane Kochilas
Description
:With 13 amazing episodes, the series will introduce viewers to the stunning vistas, fabulous food, easy, nutritious recipes, and the unmatched hospitality Greece is known for worldwide.
What makes My Greek Table With Diane Kochilas different?
A passionate host with international appeal: One of the world's foremost authorities on Greek cuisine, native New Yorker Diane Kochilas hosted one of Greece's most popular cooking show, What Are We Going to Eat Today, Mom?, in addition to being an award-winning author, chef, and passionate pioneer of healthy Greek cuisine.
Unique content: My Greek Table With Diane Kochilas is not just another travel-cooking show. It is a thorough exploration of the original Mediterranean Diet, shot on location throughout Greece in places such as Crete, Santorini, Ikaria, Lesvos, Thessaly, Macedonia, the Peloponnese, and Athens, as well as in a beautiful kitchen in Athens.
Epic Food: Diane will delve into the breadth and variety of Greek cuisine, with regional specialties, a huge array of delicious vegetable and bean dishes, healthy desserts, and, yes, those iconic classics, too, from Greek salad to souvlaki!
Health-giving Ingredients: An in-depth look at the key ingredients of the Greek-Mediterranean Diet: extra virgin Greek olive oil, real Greek feta and Greek yogurt, wild herbs and healing herbal teas, whole grain breads and rusks, greens and vegetables, fish, honey, wine and more. Everything Diane showcases in My Greek Table will be accessible to her American audience.
Awe-inspiring locations: Diane will take viewers on a journey that will inspire them to travel to one of the world's most beautiful countries. Diane will visit Greek-island home kitchens, sail in the deepest blue sea on earth, showcase some of the world's most stunning archeological sites, and explore the food continuum that is Greek cuisine, from prehistory to the present. Viewers will sip wine from a volcano, cure olives during the harvest, drink longevity herbal teas, and enjoy life the way only Greeks know how to do.
My Greek Table With Diane Kochilas is a Resolution Pictures Production, presented by Maryland Public Television and distributed by American Public Television.
SERIES ASSETS:
My Greek Table - Press Release
PHOTOS: