Evolution of America: 1619 to Today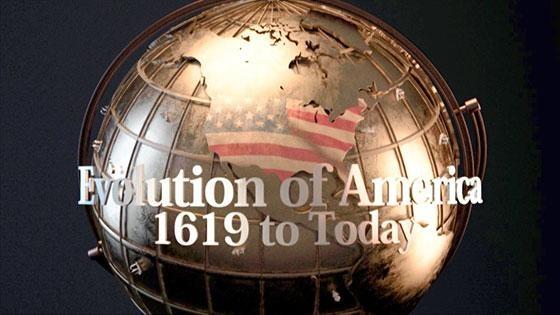 MPT National
Evolution of America: 1619 to Today - Preview
Description
Across centuries, the long term ramifications of what took place in the seemingly obscure year of 1619 have both bedeviled and helped define the United States. From the initial incarnation of representative government in the New World to the arrival of the first Africans to the English colony, these events played an important part of shaping the American experience. Coupled with two other key events that year, they have remained integral to political and social life in the U.S.
"Evolution of America: 1619 to Today" explores those pivotal events and examines, in depth, their effect on the growth and development of the U.S. and how they resonate today. Divided into four themes, the program uses a variety of elements to both keep audience attention as well as presenting an engaging dialogue. Each theme begins with a short series of "man-on-the-street" interviews to establish the level of knowledge, or more accurately, the lack of knowledge about the featured events. These interviews were conducted in New Orleans, Philadelphia, Boston, Baltimore, and Washington, DC. A short, background narrative is illustrated with a historical reenactment, supplemented by archival and new imagery. This all leads into a conversation with subject area experts who discuss more of the how and why these events became significant in the story of America.
The first representative assembly in the New World
The meeting of the General Assembly in Jamestown in 1619 sets up the first theme of representative government. Its impact and development in America is discussed by Dr. Jim Horn, Director of the Historic Jamestowne archaeological project; Gov. Doug Wilder, the first African-American elected as governor; Dr. Larry Sabato at the Center for Politics at University of Virginia; Gov. George Allen, former Virginia Governor and Senator; Sen. Tim Kaine, also a former Virginia Governor and Vice-Presidential candidate, and Judge Roger Gregory, Chief Justice, 4trh U.S. Circuit Court of Appeals.
The arrival of Africans to British North America
The theme built around the arrival of the first Africans engenders a look at the continuing African-American struggle for civil rights, from the imposition of slavery to where the movement is headed in the future. This subject is addressed by Dr. Cassandra Newby-Alexander at Norfolk State University; Dr. Linda Heywood at Boston University; Dr. John Coombs at Hampden-Sydney College; Dr. Rex Ellis at the National Museum of African-American History and Culture; and Rev. Dr. Bobby McClain, who as a young pastor in Alabama marched with Dr. Martin Luther King, Jr. at Selma. Sen. Kaine, Gov. Wilder, Dr. Horn, and Judge Gregory also add their viewpoints.
Recruiting single English women to "stabilize" and make permanent the colony
The recruitment of single women to stabilize and make permanent the nascent English settlement is the third theme that covers women's battle for equality through the current Me Too movement, as well as women's changing role in American society. This conversation includes comments from Anne-Marie Slaughter, CEO and President of the think tank New America; Dr. Sonya Michel, Professor Emeritus of History and American Studies at University of Maryland; and Suzanne Gould, historian for the American Association of University Women. Additionally, Dr. Ashley Atkins-Spivey, Director of the Pamunkey Indian Resource Center and Chief Anne Richardson of the Rappahannock Tribe enhance the discussion with a Native American perspective.
The first "official" English Thanksgiving in British North America
The final theme centers on the first Thanksgiving, which was a religious expression, rather than a harvest feast. To discuss the impact of religion on America, Dr. John Kinney, former Dean of Theology at Virginia Union University; Mike McCurry, former Press Secretary to President Clinton and currently a professor at Wesley Theological Seminary and Rev. Dr. McClain provide their opinions. Graham Woodlief, a direct descendent of the Captain who oversaw the first Thanksgiving adds his view of the event. Dr. Horn and Judge Gregory once again provide a historic and legal assessment.
Appealing visuals, carefully staged historical interpretation of events, creative animation, original music, and strong, professional narration all add depth and dimension to content. Taken together, these elements will produce a vibrant, stimulating production that will make a clear, coherent connection between 1619 and 2019. It takes viewers on a trip through American time, providing them a unique perspective on how this nation and its people came to be what it, and they, are in the 21st century.
This documentary draws the line from Jamestown, Virginia, 1619, to now. It zigs, zags, and takes detours. But for our audience, following it will be surprising, entertaining, and informative.
Since 1987, the producer, Cinébar Productions, winner of numerous Telly Awards, Gold CINDYs, and Gold Medals Houston Worldfest has been providing high-quality media to various clients including public television, museums, and not-for-profit organizations.