Steven Raichlen's Project Fire - Season 2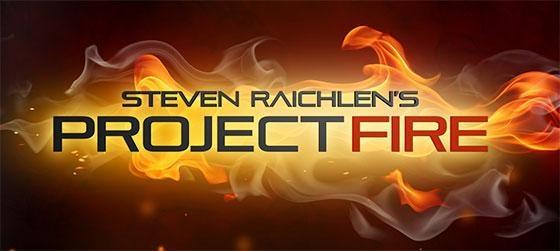 Steven Raichlen Public TV
Preview: Steven Raichlen's Project Fire Season Two
The man who reinvented world barbecue is back with another sizzling season. More projects, more fire… and definitely more easy-to-follow instructions to help you take your grilling to the next level.
Filmed in scenic Steinhatchee, the fishing mecca on Florida's Gulf Coast, Season 2 of Project Fire brings new grills, new fuels, new dishes, and jaw-dropping new techniques...from grilling fresh flatbr
Following the success of Steven Raichlen's Project Fire, the man who reinvented world barbecue is back with another sizzling season. More projects, more fire… and definitely more easy-to-follow instructions to help you take your grilling to the next level.
Filmed in scenic Steinhatchee, the fishing mecca on Florida's Gulf Coast, Season 2 of Project Fire brings new grills, new fuels, new dishes, and jaw-dropping new techniques… from grilling fresh flatbreads in the embers to spit-roasting whole beef shoulder clod over wood, along with hot iron, smoky salt slabs, and upright stakes over a campfire.
The new episodes range from "Grilling with Wood" (inspired by a front-page story Raichlen wrote for The New York Times Food Section) to "Secret Steaks", in which Steven takes you way beyond familiar T-bones and filet mignons to introduce such meaty up and comers as spinalis and segreto. Of course there will be brisket—in fact, a full episode is devoted to this epic meat in "Brisket 24/7" (Steven's new brisket book is included with this offer). And you can "Shoulder On" with Steven as he tackles beef, pork and lamb shoulder.
The series will present some spectacular new ingredients from fresh hearts of palm from Florida and Hawaii to local redfish personally caught by Steven and grilled "on the half shell". Wild mushrooms? Check. Beef tomahawks? Of course. Grilled pizza with ember roasted squash? We've got you covered. And see grilled cheese like you've never experienced. Yes, it comes flambéed with cognac!
Through his cutting edge recipes, Raichlen takes viewers on a journey across the U.S. and around the world, with episodes like "Chino Latino" where East blends with West, "Gulf Coast Grill" and "Tex Meets Mex". And, if you're wondering what else could possibly be new in the world of barbecue, don't miss our episode on "The Best Barbecue You've Never Heard Of."
The new series comes from the same production team that brought viewers Steven Raichlen's Project Smoke and Primal Grill. Steven Raichlen's Project Fire is a co-production of Maryland Public Television, Barbacoa, Inc. and Resolution Pictures. The series is distributed by American Public Television. Funding for the series is provided by Big Green Egg, Inc.; Fire Magic Grills/RH Peterson Co.; Kenmore/Transform SR Brands Management LLC; Green Mountain Grills/GMG Products LLC; Blue Rhino/Ferrellgas L.P.; Kalamazoo Outdoor Gourmet; Maverick Industries, Inc.; Creekstone Farms Premium Beef LLC; Shun Cutlery / KAI USA, Ltd.; Basques Hardwood Charcoal, Inc.; Rougette Bonfire Grilling Cheese/Champignon North America, Inc.; Workman Publishing Co Inc.; Smoke 'n' Fire Inc.; and Weber-Stephen Products LLC.
SEASON 2 DOWNLOADS

PHOTOS - Season 2