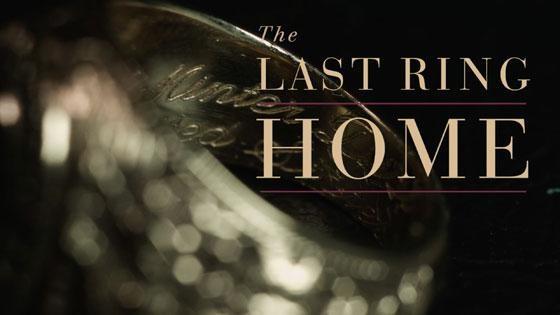 The Last Ring Home - OFFICIAL TRAILER (2016)
The Last Ring Home is the story of courage, love and honor of a WWII hero, Lt Minter Dial, who won the Navy Cross, and was killed as a prisoner of war of the Japanese in January 1945. Son of a Senator and married to an aspiring actress, he became a Navy officer, captaining the USS Napa at the outbreak of war. Captured at Corregidor, he survived 2.5 years as a POW in the Philippines, only to be killed in the most gruesome conditions. Just before dying, he handed his Annapolis ring to a fellow prisoner, but it was lost in the ensuing chaos. Then the ring reappears many years later under the most improbable of circumstances. The Last Ring Home documents the ring's magical journey and the impact that it has had on so many people along the way.
VIDEO CLIPS FOR SOCIAL MEDIA OR WEB: Post on social media or your website with a brief description of the film and your station's air dates and times. We encourage you to use the following when posting on social media: #LASTRINGHOME @LASTRINGHOME
Clip #1: Minter Dial: Sharing History Through Storytelling - TRT: 1:12 - ​Minter Dial, producer of The Last Ring Home, describes his love of history & desire to make the subject more interesting to a broader audience by sharing the past through personal stories.
Clip #2: Chris Noone: Why the Film Appeals to a Wide Audience - TRT: 1:38 - ​Minter Dial's cousin, Chris Noone, describes why the film The Last Ring Home will appeal to a large audience & how it can help viewers understand the difficulties of serving in the military & the history of WWII.​
Clip #3: Chris Noone: The Impact of Lt Dial's Legacy on His Life & Service - TRT: :42- ​Minter Dial's cousin, Chris Noone, describes how the legacy of his grandfather, Lt. Nathaniel Minter Dial, inspired him to serve in the Marines.
Clip #4: Sandy Martin Sadler: POW - TRT: :39 - ​Class of 1982 Naval Academy alum, Sandy Martin Sadler, discusses how the film helped her better understand POWs & WWII.​
Clip #5: Chris Wright: Significance - TRT: 1:11 - Naval Academy & West Point ring expert Chris Wright discusses the significance of the class rings, both for their owners & as a physical representation of their legacy.​
PHOTOS: