Thinking Money: The Psychology Behind our Best and Worst Financial Decisions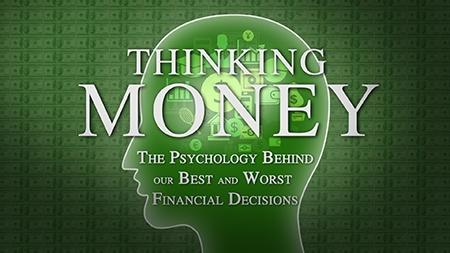 Thinking Money: The Psychology Behind Our Best and Worst Fin
Thinking Money: The Psychology Behind our Best and Worst Financial Decisions
Host Dave Coyne leads the audience through an exploration of what behavioral economics has to tell us about how and why we spend, save (or don't) and think about money. We travel the country meeting some of the innovative thinkers who mix economics with psychology. Their experiments and insights into our financial behavior will enlighten and often amuse us as we learn to recognize how both our brains and the marketplace can trick us into spending money we shouldn't.
Coyne is a wisecracking everyman who stands in for us as we are intrigued and excited by a whole raft of techniques, apps, websites and ways of thinking that help us to save for the types of things that make our lives more secure: emergency funds, our kids' education, and ultimately our comfortable retirements. He will see a horizontal winetasting in California that makes us re-think how we look at price tags, and will get to meet the person whose retirement he is saving for: an age-morphed version of himself in a Stanford virtual reality lab. A mix of fascinating theory and practical takeaways, Thinking Money is designed to decrease the stress and increase the bandwidth in our lives.
Thinking Money: Practical Solutions
Financial experts come together in an interactive forum to discuss solutions to the challenges presented in the original documentary. Viewers will learn valuable actions and resources they can use to help make better financial decisions.
Download Promotional Materials:
PROMOS:
Thinking Money: The Psychology Behind our Best and Worst Financial Decisions
Thinking Money: Practical Solutions
PRESS RELEASE:
Thinking Money Press Release (.docx)
Station Outreach Award Opportunity Resources:

Thinking Money Outreach Award RFP (.pdf)
Thinking Money Outreach Award Budget Template (.xls)
PHOTOS: